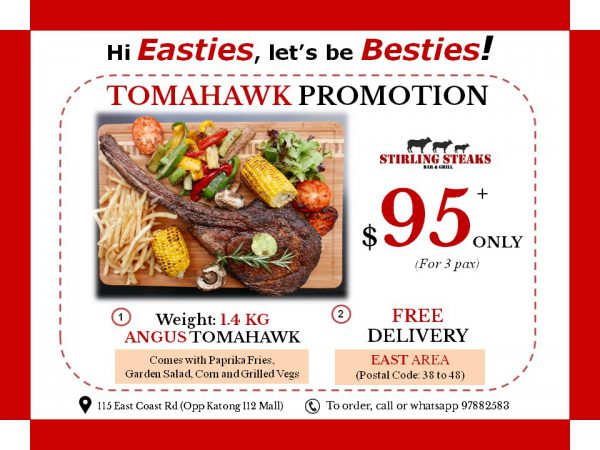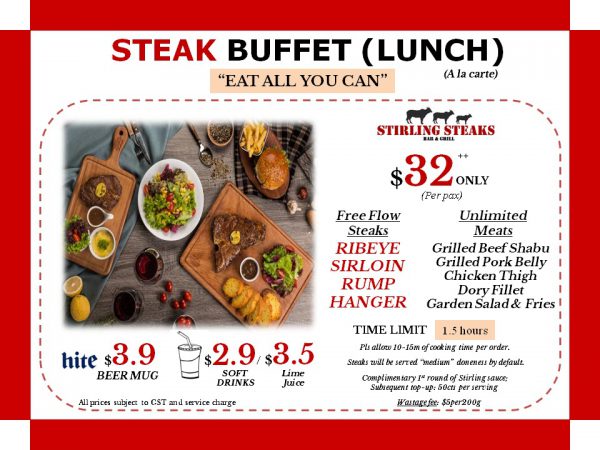 Reservations will held for a maximum of 15 minutes from the reservation time
For reservation booking: Email us at [email protected] or call us at +65 97882583
CHARCOAL GRILLED STEAKS
Eat the ENTIRE COW at Stirling Steaks!
Stirling Steaks is a steakhouse that specialises in charcoal grilled steaks, served with the highly popular Stirling Sauce. Our steaks have a smoky flavoured aroma as we slow grill our steaks over traditional charcoal.
We serve 10 types of STEAK CUTS. They include tomahawk, ribeye, tenderloin, flat iron, hanger and other steak cuts.
Established since 2014, we currently have outlets in Singapore and Vietnam. Stirling Steaks is named after "Stirling Rd" (Queenstown), where the founder lived and grew up.
Stirling Butchery

We sell QUALITY MEAT at WHOLESALE PRICE

Customers can purchase our high-quality meat at StirlingButchery, located within Stirling Steaks SG at 115 East Coast Road.
Our meat is of the finest quality. We supply to other restaurants, as well as Stirling Steaks
Due to our scale, we are able to offer attractive prices to customers.
We are the MARKET LEADER in BEEF CUTS. At Stirling Butchery, you can buy the ENTIRE COW. These cuts range from Ribeye, Sirloin, and Tenderloin.
In addition, we sell seafood, lamb, pork, duck, chicken and fresh vegetables.
115 East Coast Road
Monday to Friday: 12pm to 330 pm; 6pm to 10pm
Saturday to Sunday: 12pm to 10pm
78 Horne Road (collaboration with #WLJK)
Monday to Sunday: 6pm to 1030pm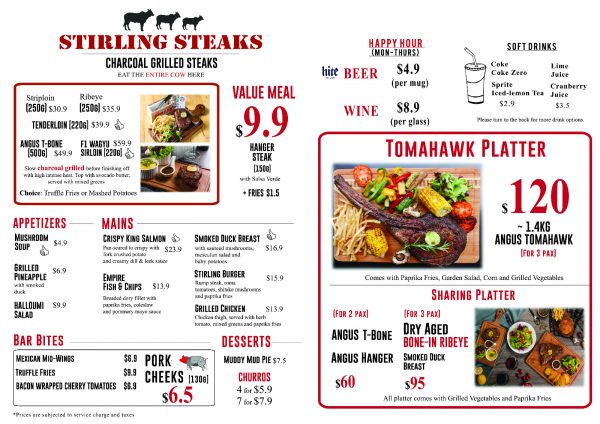 Số 23 Ngô Văn Sở, Hoàn Kiếm, Hà Nội