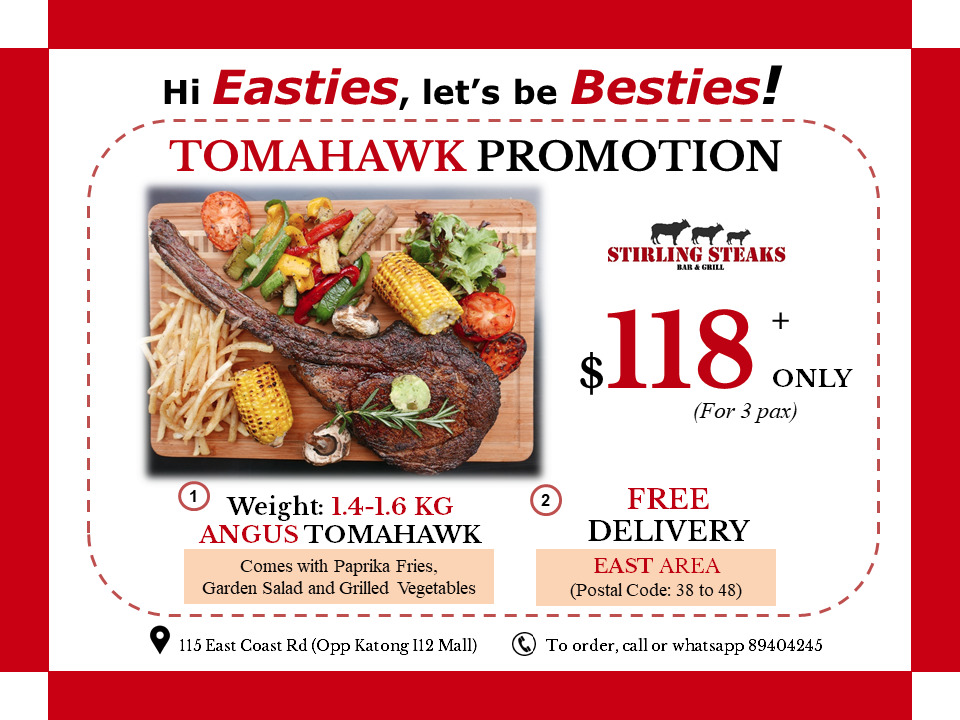 Stirling Butchery

Buy >2kg of beef, enjoy 30%wholesale discount
QUALITY MEAT at WHOLESALE PRICE!
At Stirling Butchery, you can buy the ENTIRE COW. These cuts range from Ribeye, Sirloin, and Tenderloin.
In addition, we sell chicken, pork, duck, lamb and seafood.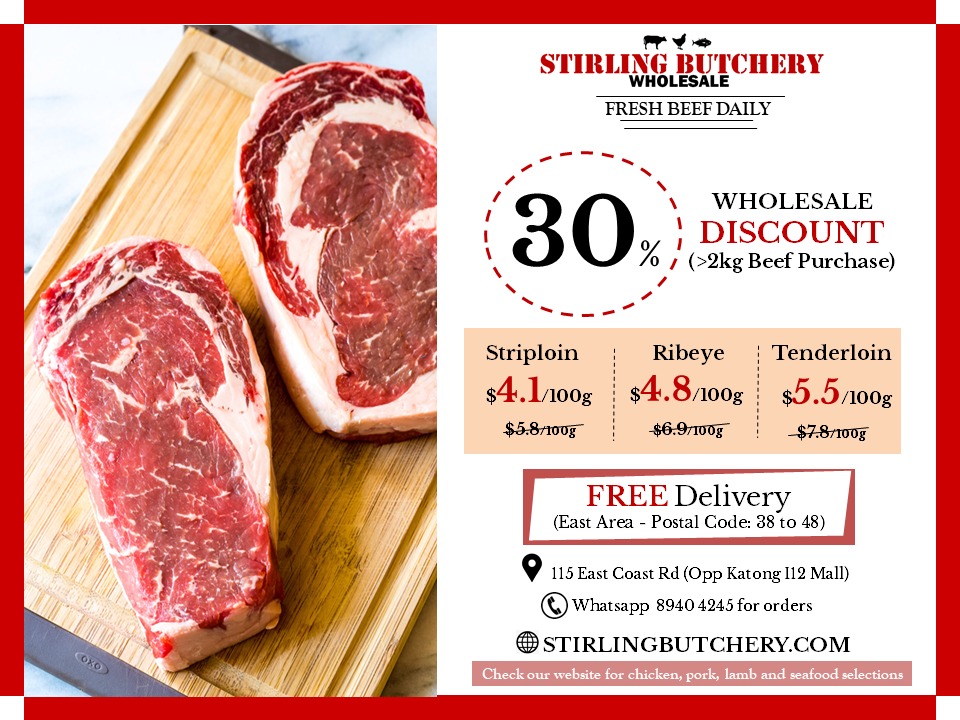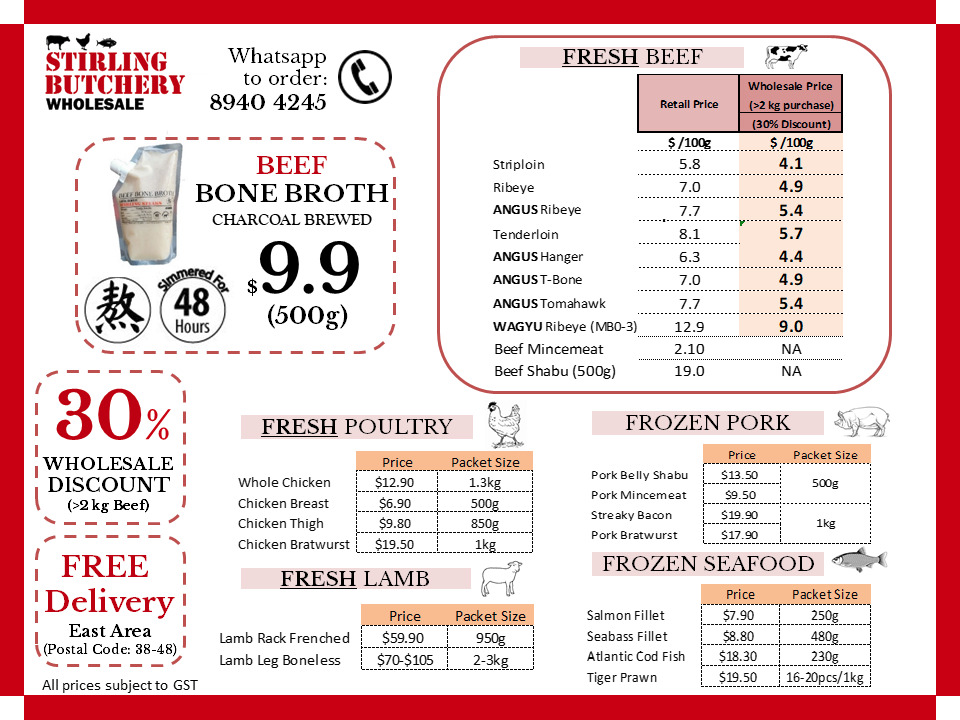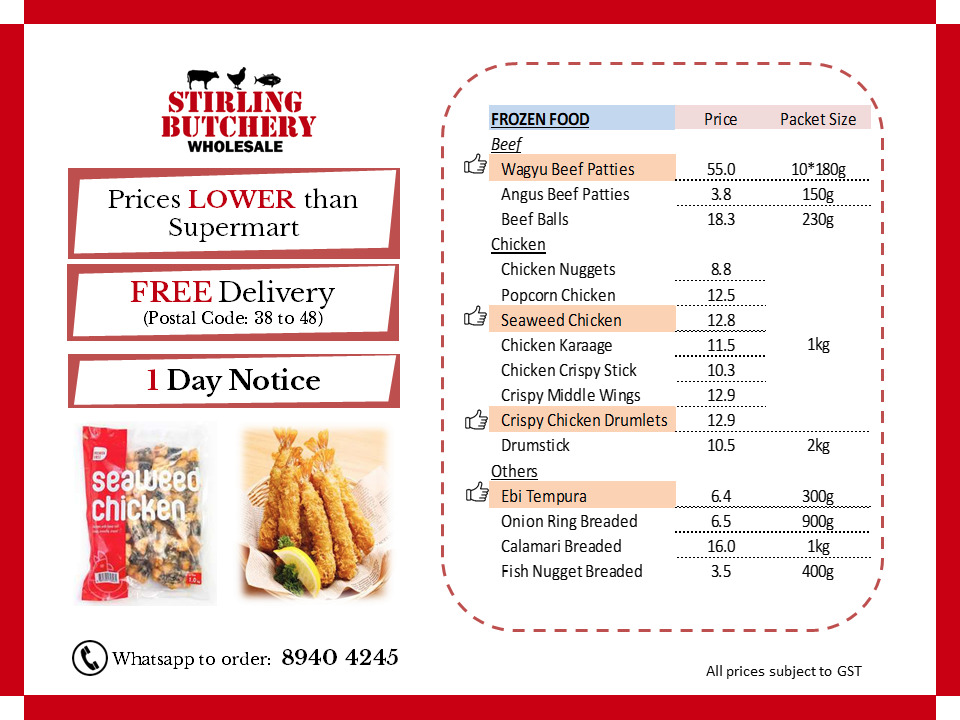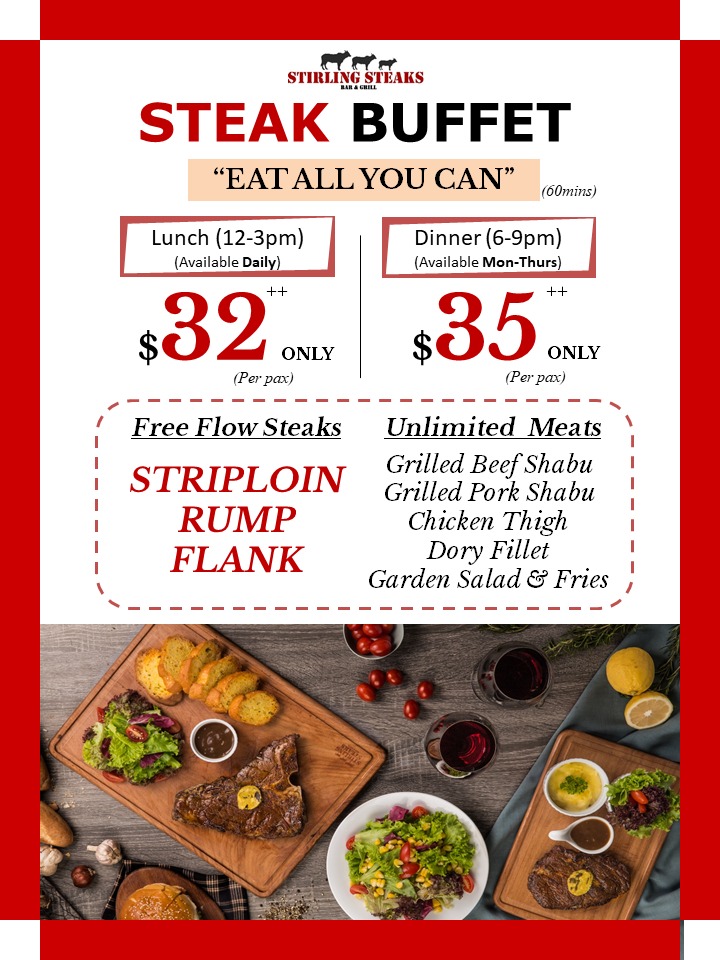 Reservations will held for a maximum of 15 minutes from the reservation time
For reservation booking: Email us at [email protected] or call/whatsapp us at 89404245
Alternatively, they can fill out the reservation form.
CHARCOAL GRILLED STEAKS
Eat the ENTIRE COW at Stirling Steaks!
Stirling Steaks is a Singapore-based steakhouse that offers a unique dining experience that combines charcoal grilled steaks and outstanding service. The restaurant is widely popular among Singaporeans, having been established since 2014.
You can eat the ENTIRE COW at Stirling Steaks. We serve 10 types of steak cuts, one of the most in any steakhouse. They include tomahawk, ribeye, striploin, T-bone, and other steak cuts.
Our steaks have a smoky flavoured aroma as we slow grill our steaks over traditional CHARCOAL. Traditional charcoal-grill ensure meat juices are retained better, thereby giving customers a satisfying gastronomical experience.
The delicious steaks are served with the popular "Stirling Sauce", home-made from fresh herbs, and slow brewed over a long period of time.
Our menu prices are reasonable, ranging from the $9.9 value steak meal to the highly popular Combo Special and Steak Buffet. We offer a selection of other meats, salads, and sides, ensuring there is something for everyone.
The restaurant is named after "Stirling Road", where the founder, Mr Elwyn Chan, grew up. Mr Chan is a highly successful hedge fund manager. He set up Stirling Steaks to share his craving for good quality steaks with friends.
Our main outlet is located at 115 East Coast Road.
We also operate the kitchen at the following outlets:
#WLJK (at 78 Horne Road)
Alchemy Bistro (at 3 Magazine Road)
We have 2 overseas Vietnam outlets:
166 Hào Nam, Đống Đa, Hà Nội

349 Phan Xích Long, P2, Phú Nhuận, HCM
Main Outlet @ 115 East Coast Road
Monday to Sunday: 12pm to 300 pm; 6pm to 10pm
78 Horne Road (collaboration with #WLJK)
Monday to Sunday: 6pm to 1030pm